The team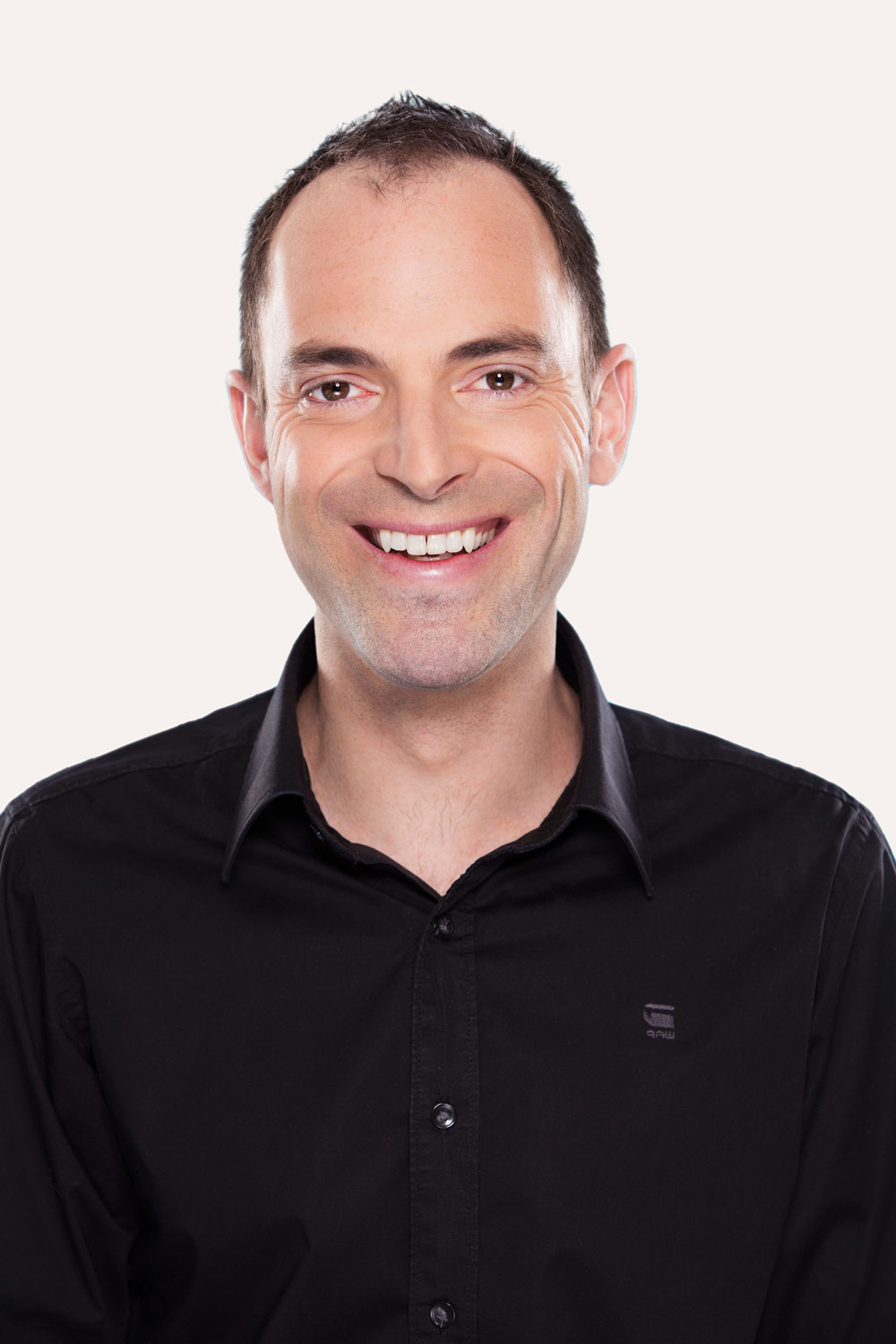 Dr. Robin Pigeon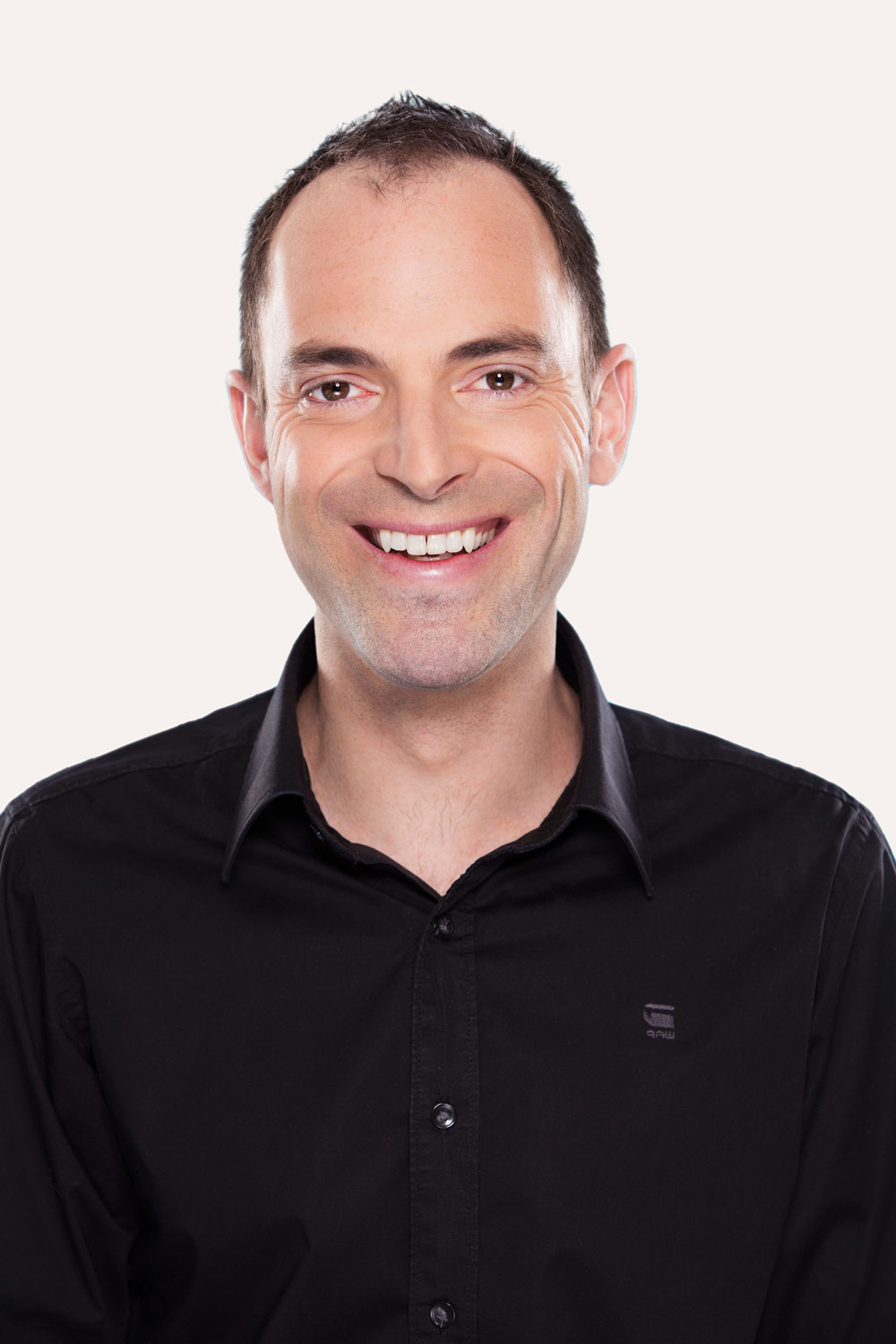 Dr. Robin Pigeon
Dr Robin Pigeon graduated from the University of Montreal in 2000 and, subsequently, completed a multidisciplinary residency at the University of Missouri in Kansas City in 2001.
Co-owner of the Centre de santé dentaire Candiac, Robin is a member of the Academy of General Dentistry, the International Congress of Oral Implantologists and the World Clinical Laser Institute. He has the desire to maintain a level of excellence through the many continuing education courses he follows in order to improve his skills, both in Canada and abroad.
Passionate, meticulous and keen to offer you the best treatment with the most state-of-the-art technology, he developed over the years a multidisciplinary practice that is highly advanced in cosmetic dentistry, surgery, implantology, dental restoration as well as occlusion and TMJ disorders.
Dr Pigeon graduated from the Académie Internationale de Dentisterie Esthétique, the Institut Canadien d'Occlusion and the Institut Canadien d'Implantologie. Patient, professional and attentive to your needs, he will guide you through the various options and help you reach your goals!
Father of 2 boys and a little girl, his family life is dynamic and filled with travels, outdoor activities and sports!
Main continuous training
September 2008 : Graduated from the Académie Internationale de Dentisterie Esthétique (AIDE)
September 2011 : Graduated from the Institut Canadien d'Occlusion (ICO)
April 2012 : Allogeneic transplants, free autogenous grafts and connective tissue grafts : Académie Dentaire Multidisciplinaire
June 2012 : Levels 1 et 4 – Misch International Implant Institute (MIII)
April 2013 : A simple GBR during an extensive bone graft? Why not! : Académie Dentaire Multidisciplinaire
November 2013 : Graduated from the Institut Canadien d'Implantologie
Dr. Robin Pigeon is the person in charge of access to information and protection of personal information at the clinic. Please contact him if you feel that you have been the victim of a security breach regarding your personal information.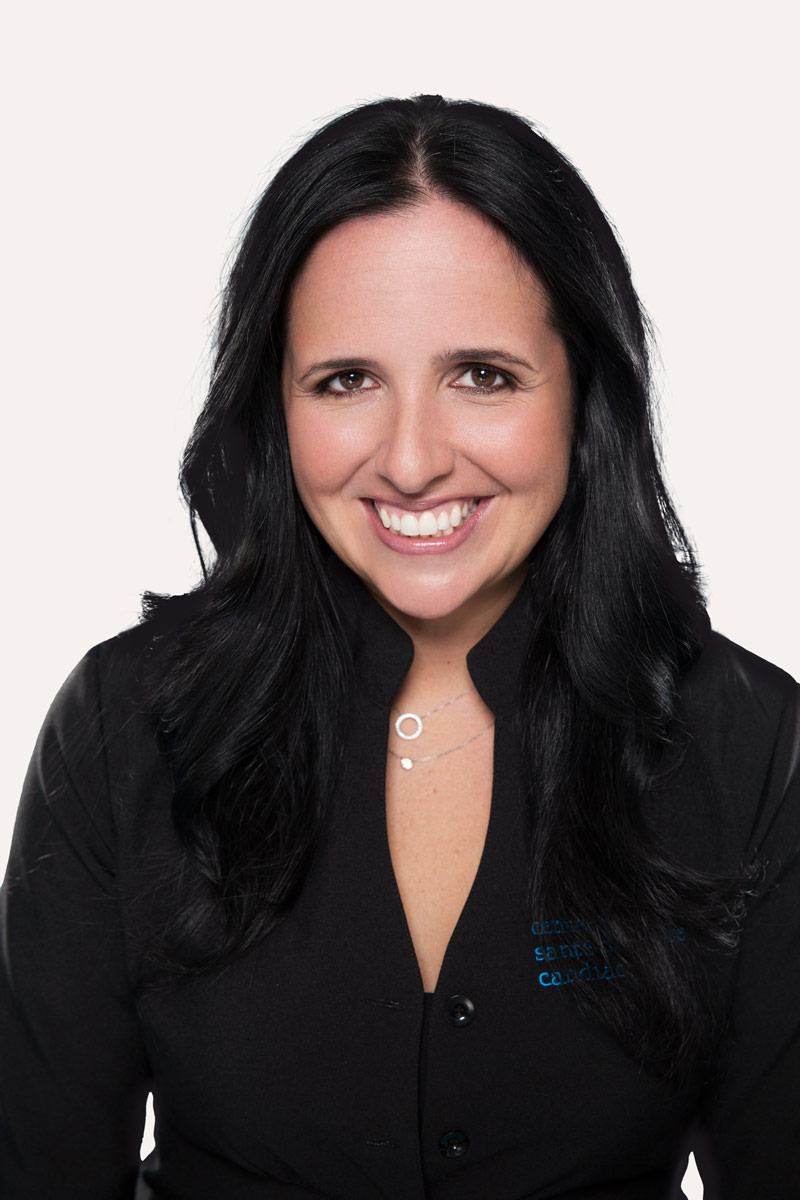 Dr. Corinne D'Anjou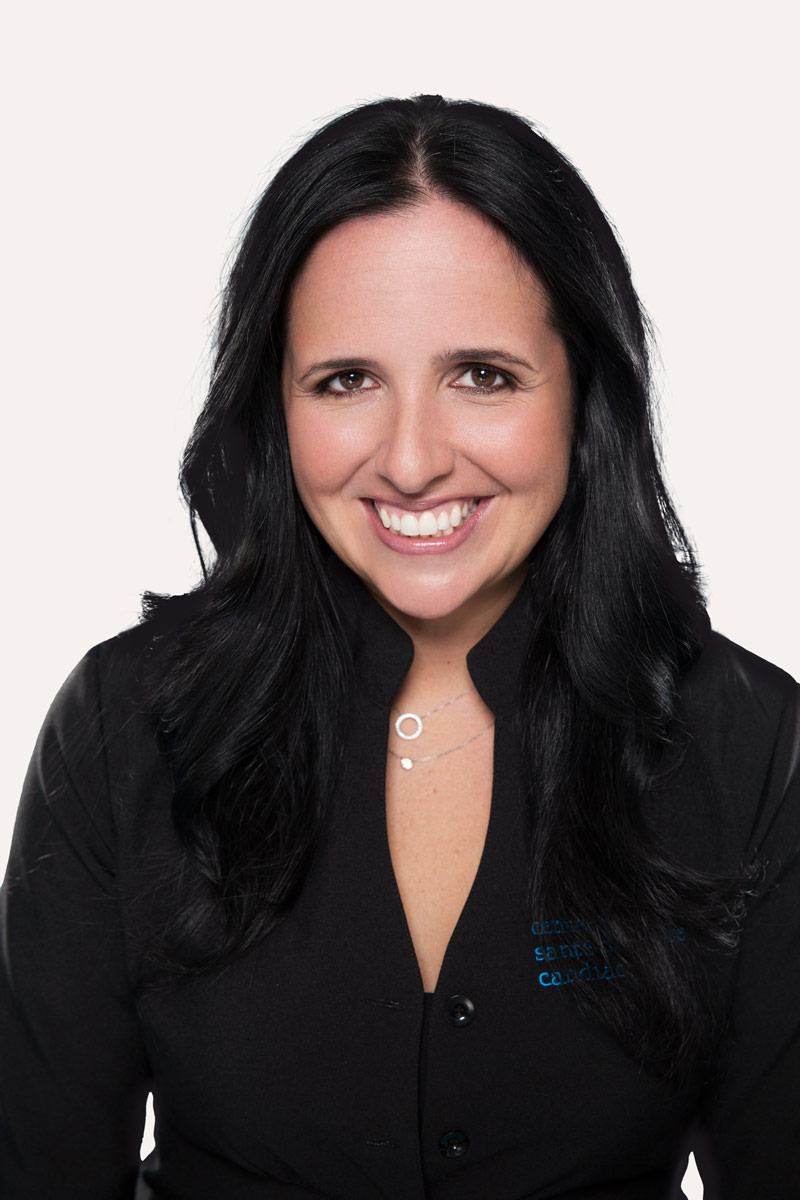 Dr. Corinne D'Anjou
Dr Corinne D'Anjou graduated from Université Laval in Québec in 2002, with honors in oral and maxillofacial surgery.
Co-owner of the Centre de santé dentaire Candiac, she is very committed to her practical development and is devoted to her continuing education in order to provide the best treatment to her patients. Very studious, she has completed several post-doctoral courses in the fields of aesthetics, surgery, Invisalign orthodontics, E4D restorations, occlusion and the temporomandibular joint. In 2011, she graduated from the Institut Canadien d'Occlusion.
Involved and feeling concerned about humanitarian assistance, Corinne participated in a dentistry mission that lasted more than a month in Paraguay between her third and fourth year of university, in 2001. The experience was very useful when she led an exploratory mission in a military zone located in the Democratic Republic of Congo in 2010.
A number of objectives were among her priorities: develop an effective clinic with equipment sent from Montreal several months earlier, treat a maximum of patients and train qualified personnel in dentistry to ensure sustainable development.
During the fall of 2014, Corinne obtained a degree in Forensic Dentistry from McGill University. She is currently enrolled to complete her Fellowship in Forensic Odontology at the University of Texas Health Science Center in San Antonio, where she will graduate in the spring of 2016. Her passion for forensic dentistry merges with her humanitarian side, as she is ready to intervene in mass disasters and police investigations. She is a member of the Academy of General Dentistry and the American Society of Forensic Odontology, as well as an associate member of the American Academy of Forensic Science.
Mother of three young children, she is patient, careful and attentive to the needs of her clients. With Corinne, you will benefit from an attentive service where your comfort and satisfaction are a priority.
Dr. Derek Draft
Dr. Shawn Blanchard
Dr. Shawn Blanchard
A graduate of the Université de Montréal's Faculty of Dentistry, Dr. Shawn Blanchard obtained his title of dental surgeon in June 2011. A proud member of his graduating class, he is passionate about all areas of dentistry, especially endodontics, prosthodontics and surgery.
Shawn joined the Centre de santé dentaire Candiac team as soon as he finished his university studies, and it goes without saying that he shares the clinic's philosophy. Providing quality care with the utmost respect for his patients and their needs and expectations is particularly important to him. The Centre's clients benefit greatly from Shawn's inquisitive mind. Aware of the importance of constantly updating his knowledge and keen to offer the best advice and services to each and every one of his patients, he takes part in a number of training and development activities in his field. In 2016, he obtained his certification in allogenic, autogenic and connective tissue transplants from the Académie Dentaire Multidisciplinaire.
Since joining us, Shawn is now the father of two beautiful children who he loves spending time with, making him a dentist who listens to your children as well.
With him, patients feel listened to and understood, an essential step in comprehensive planning when developing personalised treatments.
Dr. Kristelle Julien
Dr. Kristelle Julien
Dr Kristelle Julien graduated from the Faculty of Dentistry at the Université de Montréal in June 2012. Given her interest in science and health, she also completed a bachelor's degree in biomedical sciences at the Université de Montréal in 2007.
Dr. Julien has also been involved in community dentistry, providing free dental care to street kids at a CLSC in Montreal. She is an empathetic person who listens to her patients and likes to take the time to explain and discuss things with them. She has an eye for detail and likes to expand her knowledge by regularly taking training courses in her field. She has a keen interest in and skills for aesthetic treatments and crowns. She also enjoys working with children.
Dr. Sabrina Djidel
Dr. Sabrina Djidel
Sabrina Djidel is a caring and dedicated dentist. She graduated from the University of Montreal in 2010 and since then has been committed to continuing her education by participating in numerous local and international training courses. These courses have covered various aspects of dentistry, including implantology, endodontics and surgery, to name but a few.
In addition to her regular dental practice, Sabrina Djidel has also devoted time to humanitarian causes. She took part in a humanitarian mission in the Colombian Amazon, providing essential dental care to an indigenous community. Her commitment to the well-being of others and her empathy make her a trusted professional who listens to her patients' needs.
Apart from her work in dentistry, Sabrina Djidel also has a number of passions. She is passionate about cultural travel, which allows her to discover new cultures and broaden her horizons. She also attaches great importance to her physical well-being, and regularly takes part in activities to maintain a healthy, balanced lifestyle. Finally, her family occupies a central place in her life, and she pays particular attention to maintaining strong ties and creating precious moments with those closest to her.
Dr. Vincent Walsh
Hygienists
Jo-Anne
Jo-Anne
Jo-Anne graduated in dental hygiene from the Collège de l'Outaouais in 2002. At the start of her career, she worked for many years in a general practice, before moving on to a specialist clinic in the Laval region. This clinic gave her the opportunity to work in periodontics, endodontics and prosthodontics. Periodontics was even a passion for Jo-Anne, so she put her knowledge to good use within the Ordre des hygiénistes dentaires du Québec and taught periodontics at conferences for her dental hygienist colleagues across Quebec.
We're delighted to have her with us since 2009. Since graduating, Jo-Anne has taken a number of training courses to keep up with the latest developments in her field and ensure that her patients benefit from them. She practices Invisalign orthodontics, bite plate adjustments, and composite insertion.
In 2018, she had the immense privilege of taking part in a humanitarian mission in Kenya among the Maasai tribe. She accompanied Dr Corinne D'Anjou, Dr Robin Pigeon and Dr Derek Draft to provide oral hygiene care and also assisted the dentists during treatments. It was an outstanding experience, both on a human and professional level.
Jo-Anne's gentleness and professionalism are sure to please.
Sandrine
Sandrine
Sandrine graduated in dental hygiene from Cégep Édouard-Montpetit in 2002. She started out as a hygienist in Switzerland, where she also developed a love of travelling and learning about cultures different from her own.
Ever since she started out in the dental health field, Sandrine's passion for everything to do with the dental hygiene and health of her patients has only grown. Keen to learn more and to provide you with the best possible care, Sandrine has taken a number of continuing education courses, including chairside tooth whitening, periodontal disease, the relationship between the temporomandibular joint and problems of loosening and wear of the teeth.
Very versatile, cheerful and caring, Sandrine will listen to your needs.
Valerie
Sonia
Sonia
A 2008 graduate of Cegep Édouard-Montpetit, Sonia joined our team in 2020. Her slightly self-conscious personality combined with a born go-getter has charmed us, making her a committed and diligent hygienist.
Sonia likes to take a variety of training courses so that she can offer a wide range of treatments. On a more personal level, she is keen to perfect her knowledge to keep pace with the profession and technological advances. Periodontics remains a treatment in which she is deeply involved.
Conscientious, she will provide you with high standards of care in a pleasant atmosphere.
Samuelle
Samuelle
A hygienist who graduated from Édouard-Montpetit CEGEP in December 2021, Samuelle began her career in a local clinic before joining the Centre de santé dentaire Candiac in March 2023.
As a member of our team, she is propelled into a world of continuous training to develop her skills and competencies so that she can offer you high-quality service. Concerned about your well-being and approachable, she will charm you.
Viorica
Audrey
Valerie
Marie-Eve
Audrey-Anne
Audrey-Anne
A Cégep Édouard-Montpetit graduate since May 2017 in dental hygiene, Audrey-Anne first worked in 2 clinics where she developed her practice with more fearful children using the Zootherapy approach. She then joined the team at the Centre de santé dentaire de Candiac in November 2018.
Demonstrating a keen interest in her patients, Audrey-Anne is a good listener and keen to help her patients develop their knowledge of their oral health. She has also developed special skills in general dentistry and periodontics.
Diane
Diane
Diane holds a degree in Dental Hygiene from Collège Édouard-Montpetit and graduated in 1986. The Centre de santé dentaire Candiac has been benefiting from Diane's excellence for over 20 years. All her patients appreciate her kind nature, her smile and her professionalism. From the first appointment, she knows how to put people at ease.
Diane completed several continued education classes over the years and takes advantage of state-of-the-art instrumentation; she makes every effort to ensure that patients maintain or recover their optimal dental health. Among other things, she has under her belt a great experience in terms of Invisalign orthodontics, Laser Diode for treating periodontics and the insertion of composite material.
Audrey
Audrey
A 2017 graduate of Cégep Édouard-Montpetit, Audrey joined the Centre Dentaire Candiac team in March 2018. Patients appreciate her for her attentiveness, gentleness and smile.
Since her arrival, she has taken several training courses to keep up to date with the latest advances in the dental field, such as iTero digital scans and new whitening techniques. By taking advantage of state-of-the-art instruments, she will do her utmost to provide you with excellent, gentle service.
Valerie
Valerie
Valérie graduated in 2009 and holds a degree in Dental Hygiene from Collège Édouard-Montpetit. During her studies, she had the opportunity to work in a dental center, which confirmed her passion for this profession.
Since leaving school, she has attended several classes including Invisalign, in which she believes greatly. All this training helps maintain her knowledge and skills up to date to better inform you.
Always smiling and playful, Valerie will charm you.
Audrey-Ann
Audrey-Ann
A dental hygienist graduating from Cegep Édouard-Montpetit in December 2021, Audrey-Ann is known for her gentleness, calm and discretion. Her patients greatly appreciate her personality and the quality of her care.
Audrey-Ann has mastered new technologies and has taken various training courses to improve her service offering.
Conscientious and efficient, she will make your clinic visit a pleasant one.
Assistants
Josee
Josee
Following a career as a nursing assistant, Josée returned to school in 2006 in order to obtain her dental assistant degree at the Centre professionnel de Châteauguay. She then joined our team and has since ensured the well-being and satisfaction of our patients. Known for her assurance, organizational skills and professionalism, Josée is a seasoned assistant and is trained in various specialties including implantology, sinus grafts, bone implants and gum grafts, as well as E4D.
Shany
Shany
Gentle, empathetic and experienced, Shany is Dr Pigeon's assistant. She works mainly in surgery. Her contact will make you feel calm and confident.
Shany qualified as a dental assistant in 2015 and has worked with us since leaving school. She is passionate about dentistry and green plants.
Jade
Jade
Graduating in 2016, Jade worked her first two years at Childrens Hospital in Montreal with McGill University dental students. During her studies, she did her internships here with Dr Blanchard, and when she left the hospital environment in 2018, Jade returned and has been working with Dr Blanchard ever since.
Attentive and attentive to her patients, Jade will take good care of you.
Nidia
Nidia
Nidia obtained her dental assistant diploma in 2002 from the École des métiers des Faubourgs training centre after completing her residency at the Jewish General Hospital in Montreal.
Organised and versatile, Nidia is an experienced assistant who will accompany you and make your visits as pleasant as possible. She works in general dentistry and has discovered that she really enjoys implant treatment.
Nidia's Spanish is a real asset, and some of our customers really appreciate this little extra, which makes communication and understanding easier.
Marylen
Marylen
Having graduated in 1999, Marylen has acquired a wealth of experience from the dentists she has had the good fortune to work with.
A very attentive and caring person, she will be able to explain the various treatment procedures clearly and reassure you at the same time.
She is constantly evolving in her profession through various training courses.
Known for her infectious laugh and joie de vivre, she's sure to make your appointment less stressful.
Noémie
Secretaries
Vicky
Vicky
Quick-witted and organised, Vicky joined our team in 2020. Since her arrival, her good humour has brightened our days and those of her patients.
Valerie
Valerie
Accessible and friendly, Valérie has been working in the dental field since 2009. She joined the team at Centre de santé dentaire Candiac in 2011 and will welcome you with good humor and joviality. She will undoubtedly bring you confidence and put you at ease. Meet Valérie in order to benefit from the utmost care and service.
Diane
Diane
With her excellent people skills, Diane is an experienced secretary. She knows how to meet your needs and provide you with quality service. Generous, she's the kind of person who always has a little thought or a bite to eat for her colleagues.
Amelie
Amelie
With her zest for life and her attention to detail, Amélie leaves no one indifferent. She's keen to provide you with the support you need to live up to your expectations, and she'll know how to help you.
Coordinators
Marie-Josee
Marie-Josee
Marie-Josée obtained her diploma in dental hygiene from Édouard-Montpetit College in 1993. She practised in a private clinic in St-Jean-sur-Richelieu from 1993 to 2006. At the same time, from 2001 to 2011, she worked on several occasions as a representative at the Montreal International Dental Congress for Procter & Gamble (Crest) and Oral-Science.
In February 2013, she joined the team at the Centre de santé dentaire Candiac as treatment coordinator. Being part of a harmonious and dynamic team was a natural fit for her. Her role is to prepare personalised treatment plans, meet with patients to explain their needs and the various options available to them, explain all the procedures and answer any questions they may have about the treatments. Continuing education is always an important part of keeping our knowledge of dentistry up to date. Implantology has been one of Marie-Josée's strongest areas of interest since she started working with Dr Pigeon.
Renowned for her organisational skills, professionalism and empathy, she knows how to create a bond of trust so that you feel supported throughout the procedures.
Marie-Claude
Marie-Claude
After several years in customer service, Marie-Claude completed her dental secretarial course in 2008 and we were lucky enough to welcome her to our team as soon as she finished her training. Since 2018, Marie-Claude has been working as clinic coordinator.
Competent and resourceful, Marie-Claude manages the clinic and finds a solution to every problem. The nature of her job requires her to manage all kinds of situations, whether relational, personal or professional. What's more, she has an uncommon memory that is extremely useful to us.
Marie-Claude's caring and rallying nature means she's always behind little surprises and gatherings to celebrate and showcase our team and employees.
Caroline
Caroline
Dedicated, proactive and always available, Caroline has been Operating Room Coordinator since 2009. Trained as a dental hygienist, she also worked in IT before returning to the dental profession.
Her contribution is essential to the smooth running of the operating theatres. She is responsible for all the clinic's purchasing, inventory and equipment, and is involved in all our major projects. Her role is pivotal to the smooth running of all our operations. From time to time, you may come across her in the operating theatre as a dental assistant, as she is always kind enough to take over when a colleague is absent.