Crowns and Bridges
Crowns in Candiac are a way to completely cover the tooth, restoring its original shape and size. A crown protects and restores strength to dental structures that can not be repaired using a conventional filling. Indications for a crown are broken or fractured teeth, cavities or extensive restoration, a tooth with a root canal, an aesthetic improvement or a cracked tooth.
Despite the existence of several types of crowns, porcelain ones are the most popular because of their resemblance to natural teeth. They are very durable and will provide you with a nice smile for years to come.
As for the bridge (also called fixed bridge), it allows to replace one or more missing tooth in a fixed manner. The pontic (or artificial tooth) is permanently attached to the neighboring teeth with crowns.
Veneers
Veneers in Candiac are created in the dental laboratory and are thin custom-made porcelain pieces for shape and color. They are then glued to teeth with an adherence system to create a beautiful smile. There are several indications to the veneers :
Aesthetically to create a beautiful white and uniform smile
To correct dental malformations
To restore too narrow or too wide teeth
To close uneven or unwanted spaces
To restore previously broken teeth
In short, veneers are sometimes very durable and a less invasive alternative to crowns while giving you a smile that meets your expectations.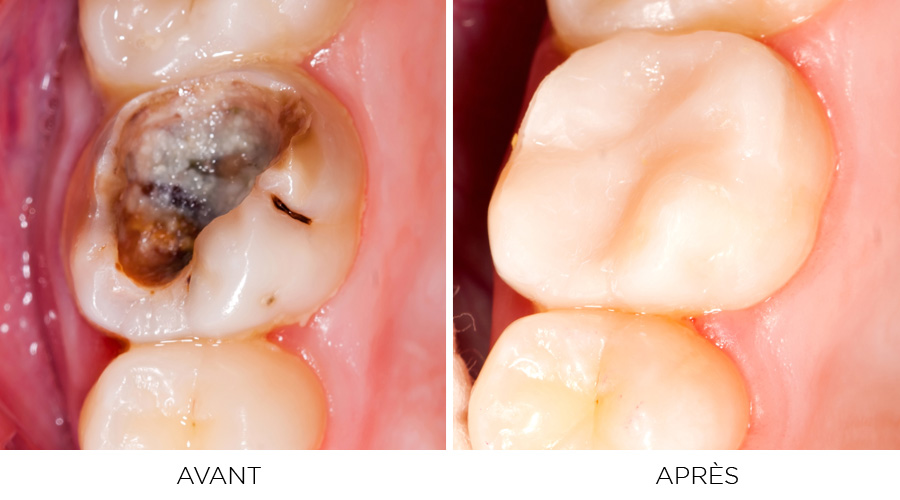 E4D and inlays
The E4D is a computer-assisted technology allowing to produce porcelain inlays and this, within the clinic and in one visit. We can design inlays, veneers, crowns and bridges. Unlike conventional restoration that only fills an empty space and thanks to its adhesive technique, the inlay has the benefit of giving back durability and strength to the tooth. Very aesthetic, it is often the treatment of choice for restoring a tooth with a cavity or with a deep or extensive existing restoration.
Crown on implants
The crown is the part that covers the titanium implant and gives a strength and durability comparable to a natural tooth.
Whitening
Whitening in Candiac is a simple, non-invasive dental treatment used to change the color of natural teeth. Because having whiter teeth is often a concern for many patients, there are several types of teeth whitening. With the help of the dentist or hygienist, you will determine what type is best tailored to your situation, your needs and your requirements.
Clinical crown lengthening
Gum remodeling surgery. Technique used when a tooth is decayed or broken under the gum. This allows access to the dentist to perform a tooth repair.